First off, I should mention that I watched the 1995 version some time ago, and liked it a lot, so going
into the 2008 version, I was a little skeptical and biased - just slightly.
I think I'll go over the characters first:
And first, naturally, is Elinor.
She was younger than Emma Thompson, closer to the age of Elinor (19).
The same with Marianne......
Both of them were alright - although Elinor was sometimes a little dull and Marianne's outburst at Mrs. Ferrars' was odd - but I don't think I really have a strong preference as to
which actors (1995 or 2008).
Marianne's romance with Willoughby in the 1995 was more toned down than in the 2008 one.
Speaking of Willoughby...
...he was my least favourite in here. He was quite short, didn't seem very
dashing in the rain, and was slightly creepy sometimes.
However, he was still pretty Willoughby-ish.
Mrs. Dashwood and Margaret (Meg, they call her) were pretty good, I suppose.
Mrs. Dashwood was nice and Margaret was closer to the age (and character) of the Margaret in the 1995 version. She's supposed to be 13, but she was closer to 11/12 and slightly less
lady-like than you'd think she should be. (Like in 1995)
But then, my favourite characters....
I really, really liked Dan Stevens' Edward, he was very like-able.
(He was also, again, slightly younger-looking.)
He was very sweet and I liked how you got to see him come to Barton, and the scene with him and Lucy at the Ferrars, you really do admire him for being loyal to his word, even against the threat of disinheritance. It was the first movie with Dan Stevens that I'd seen (I want to see
him
in
Night at the Museum 3
somtime) - I think he's already one of my favourite actors.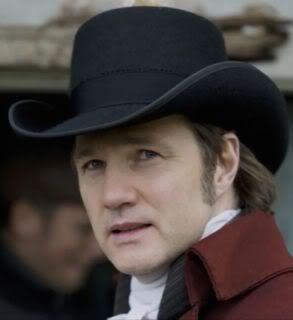 Colonel Brandon was great!! He was a bit younger (haha, let's just say they all were...)
and also better-looking. I think he was my favourite in terms of actor/portrayal.
I liked him much better than the 1995 Colonel Brandon - you can really appreciate how much sorrow he has known and his love for Marianne is so sweet.
But why do they all call her 'Mah-rianne' as opposed to 'Maery-anne'? (Hope you understand my phonetic spelling)
Fanny was, well, Fanny. Not much different - just
younger.
Yep, you're probably sick of me now.
Her "hint" that Edward couldn't possibly marry Elinor was less like a hint and more like directly telling her....but I don't really know the exact words in the book.
John was....normal, boring and average. And not really very honourable and kind-hearted, just...neutral.
And this kid...
Ummm, he was, funny. He provided comic relief, and was definitely not starved. He was a little bit...odd.
Sir John, well, just didn't seem quite right, somehow. He was a little informal, but I guess Sir John is. That, and he is also Exterminator Jeff from the Borrowers (which also stars Hugh Laurie, the other - superior- Mr Palmers), which, by the way, is one great and hilarious movie and worth watching.
But, yeah, he was one character that was better in the 1995.
So was Mrs. Jennings.
Queenie
Mrs. Jennings was alright, but she just wasn't Elizabeth Spriggs. And Elizabeth Spriggs was the BEST, the funniest, the jolliest, and just the general best-est Mrs. Jennings.
Anne and Lucy Steele.
Lucy was more likable, but she still irked me somehow, just her happy, sly comments that torment Elinor, I suppose. And then of course, Anne (a character not even
in
the 1995 version) was so funny, raving on about beaux and the doctor. and then "popping" out things by accident. Dopey, but funny. And their bad grammar/accents were there, too.
And then , of course, Mrs. Ferrars: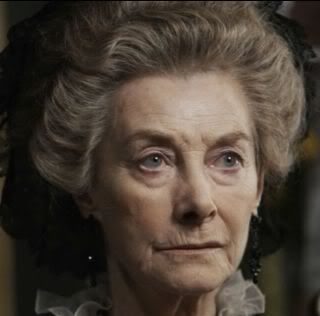 Well, for a start, she was
there
, and then quite good. Her sideways way of talking was slightly amusing.
Well, anyway, I have to go now, but hope you didn't find that too rambly and boring :)
So, in brief, I think in some points 1995 is better, but in some (like inclusion of characters) 2008 is better. I don't really have a particular preference, but I might like watching this one better :)